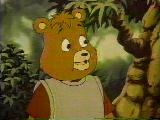 Teddy Ruxpin is a 16 year old Illiop from Rillonia, an island south of Grundo. His only known relatives are his mother, Ilana, and a father named Burl. Teddy's best friend is Grubby the Octopede. Teddy is the sort of person who makes friends wherever he goes. Basically, Teddy is a goody-two-shoes, although he can have an attitude if he's pushed too far.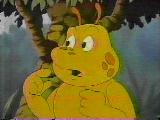 Grubby is Teddy's best friend. He's an octopede, meaning he has eight legs, (duh!) although instead of feet octopedes have hands at the ends of their legs. He has a big family with many brothers and sisters. Only two of his sisters are named in the series, Molly and Liza. His parents are good friends with Teddy's mom, Ilana. Grubby likes to eat - maybe a little too much! - and he loves to cook. His favorite dish is Root Stew, traditional octopede cuisine. Unfortunately, it seems that only octopedes and mudblups can stomach Root Stew, so Grubby usually ends up eating it alone. However, Root Stew does have one great use - as a weapon. Using only Root Stew, Teddy and co. have brought down more Gutang fighters than King Nogbert's entire army. Unfortunately, due to an accident when he was young, Grubby is afraid of the sea. While he's not necessarily the brightest, the fastest, or the strongest of Teddy's friends, he is completely trustworthy and he would do anything for Teddy.
When Teddy and Grubby first arrived in Grundo, they were saved from some troublesome bounders by Newton Gimmick. From then on, Gimmick became the third member of our inseparable trio. Gimmick is an inventor who's inventions rarely work. His greatest and most useful invention to date is the airship, a giant flying boat carried by a large hot air balloon. Without the airship, the story would never have gotton off the ground. (ahem) Gimmick is a purloon, one of the three most common humanoid races living in Grundo. Gimmick has a bit of a speech impediment, which seems to be a common problem among purloons. Gimmick lives alone with his pet fob, Fuzz, in a small valley in central Grundo, overlooked by Tweeg's Tower. Gimmick is brilliant, if a little eccentric and forgetful, as people with grand dreams and plans often are. Many times it is Gimmick's ideas, brought to realization with the help of others, that take us from one adventure to the next.
| | |
| --- | --- |
| Teddy and co. first met this diminutive sprite when they accidentally crashed the airship into her tree during its maiden flight. At first she was mad, but Teddy's quick thinking and smooth talking gained yet another valuable friend and ally. Leota told them how to steer the airship and offered constructive criticism regarding its design. Leota is the local schoolteacher. She teaches elves, sprites, and one large purple snozo at the school tree located in the Elf Village. | |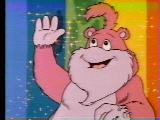 Wooly is a large purple Snozo who lives near Rainbow Falls. He's very big, and not too bright, and at first people are usually scared of him. But Wooly has a heart of gold would do anything to help his friends. He has a crush on Princess Aruzia, and she cares a lot for Wooly. Wooly is purple because of the power of the water of Rainbow Falls. He also went to Leota's school in the Elf Village.
| | |
| --- | --- |
| Prince Arin is the older child of King Nogbert, the ruler of Grundo. He was accidentally caught and imprisoned by the Mudblups while searching for his sister, Aruzia, who had been kidnapped by the Gutangs. He met Teddy, Grubby, and Gimmick when they were also caught by the Mudblups, and escaped with them. Together, they saved his sister from the Gutangs and became good friends. Teddy and co. accidentally discovered that if Arin eats Grunge Gumbo, the special soup prepared by the Forest Grunges who live in the Jungle with No Name, he turns into a large metal monster called "The Iron Warrior". Arin can be a little gung-ho at times, and he doesn't always seem especially bright, but he means well. | |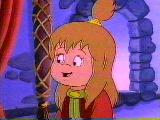 Princess Aruzia is the younger child of King Nogbert, the ruler of Grundo. She was kidnapped by the Gutangs who were holding her hostage as part of their plans to invade Grundo. She was eventually rescued by Teddy, Grubby, Gimmick, her brother, Prince Arin, and the Wooly What's-it (who has a soft spot for the princess). Like her brother, she metmorphoses into a monster when she eats Grunge Gumbo, which for lack of a better term they called "The Aluminum Amazon". Aruzia is a very kind-hearted girl who isn't afraid to get dirty helping her friends or her subjects.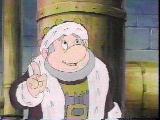 King Nogbert and his family are Illipers. He is the ruler of Grundo. He lives in his castle in Northern Grundo, not too far south of the Hard-to-find City. He is a well-loved and respected king by his people and his family.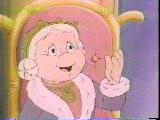 The Queen of Grundo is a highly respected and well-educated woman. She is King Nogbert's wife and the mother of their two children, Arin and Aruzia.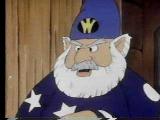 The Wizard of Grundo is a charlatan who makes his living by making people believe that he has magic powers. In reality, his magic powers consist of a movie camera and a screen, which he calls his "Magic Eye".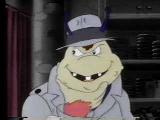 Louie is a Grunge who works for the Wizard of Grundo. He uses a small helicopter to fly throughout Grundo, recording current events on film. The Wizard uses this little-known technology to trick people into thinking that he has the power to see everything that is happening all over the world. Louie usually seems happy with his job. He also has an uncanny ability to always be in the right place at the right time. For some reason, everyone always ignores him while he's filming. Maybe Louie is the one with REAL magical abilities.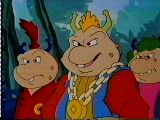 Forest Grunges live in the Jungle with No Name. They are strong and independent. They are most famous for their cuisine, Grunge Gumbo, a vitamin soup with Vitamin X, Y, and the super-special ingredient, Vitamin Z.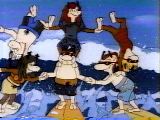 The Surf Grunges live at Ben's Beach. All they really seem good at is surfing and laying out on the beach. However, they have helped Teddy several times throughout the series.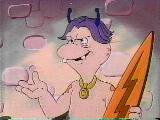 Elroy Tweeg, a Surf Grunge, is Jack W. Tweeg's long-lost father. He ran out on his wife and child when Tweeg was very young. He returned to Tweeg at the end of the series in order to try to bond with his son and teach him how to surf. However, Tweeg was unable to stop himself from trying to steal his father's gold (prizes for winning surfing competitions) and decided to leave his father and return to a life of crime.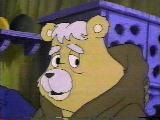 The Legendary Hermit of Leekee Lake was a mysterious character. Many people didn't believe that he even existed. However, he saved Teddy's life when Teddy fell from the MAVO airship Eclipse. Imagine the surprise when Teddy discovered that the Hermit was an Illiop! The Hermit was very lonely, living alone by Leekee Lake. After a number of adventures, Gimmick was able to restore the Hermit's lost memories using the Black Box. They finally found out that the Hermit was really Teddy's long-lost father, Burl Ruxpin!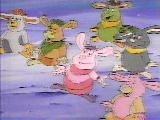 The Anythings, named This, That, The Other, Some, Another, and One More, are creatures who have the ability to change the shape of their bodies to look like anything. Originally they called themselves "Nothings" but Teddy and co. gave their self-esteem a boost and convinced them to change their name. They live in the Mushroom Forest near the Great Desert.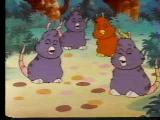 Fobs are bird-like creatures who live all over Grundo. Their bright colors are a result of drinking the water from Rainbow Falls. Fobs like to chatter and gossip, even when they don't understand what they are talking about. Gimmick has a pet fob named Fuzz.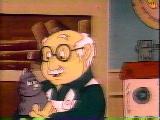 Fuzz is Gimmick's pet Fob. He lives with Gimmick in Gimmick's Valley.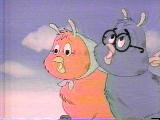 Frank and Faye Fob are a young married couple with three fob babies.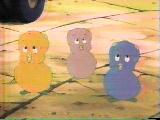 Grubby helped hatch these three fob babies after they rescued the eggs from bounders. These three babies are the children of Frank and Faye Fob, but they always call Grubby, "Uncle Grubby!"
| | |
| --- | --- |
| Karen was Grubby's first love, a caterpillar that he met when he, Teddy, and Gimmick were accidentally shrunk by the Reducing Machine. Unfortunately it didn't work out. She turned into a butterfly, and he had to become big again. | |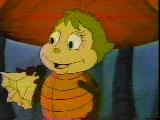 Amanda the Ladybug met Teddy, Grubby, and Gimmick while they were having a picnic. After she realized that the food she had stolen belonged to them, she invited them to a bug festival. Using the portable reducing machine, they were able to enjoy the bug fair and watch Amanda get a new spot. Amanda later helped to put out a large fire that started in the Elf Village.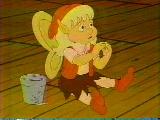 Katy is a Woodsprite who goes to class at Leota's School Tree. Katy is unable to speak, and therefore uses sign language to communicate.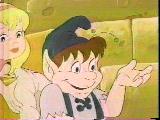 Seymour is an Elf, and one of Leota's students at her school-tree. He is physically challenged, and uses a wheelchair.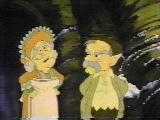 Zed and Maple are two elderly elves who live with a bird called Owler in a nice tree at the edge of Mizly Meadows near the river leading from Leekee Lake to Ben's Beach.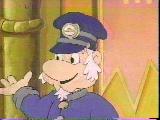 Old Beanly, an Illiper, is the forgetful messenger of King Nogbert. For some reason, he seems to have difficulty remembering to deliver invitations to the Wooly What's-it. He also spends a lot of time sleeping. Despite that, he usually manages to get the messages delivered.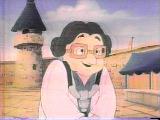 Eunice is the Royal Doctor at King Nogbert's castle. She and Gimmick are old friends and they obviously have strong feelings for each other. She is a Purloon, like Gimmick, and has a similar speech impediment.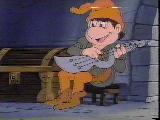 The court minstral at Nogburt Castle sang a very interesting song. It was a song "All about the Ili-Ili-Ili-Illiops".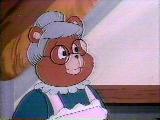 Ilana Ruxpin is Teddy's mother. She lives in Rillonia.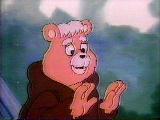 Burl Ruxpin is Teddy's long-lost father. A famous Illiop explorer and adventurer, he had disappeared while exploring Grundo when Teddy was just a young child. Unkown to his family, he was captured by MAVO. However, when Quellor learned that Burl did not know anything about the Treasure of Grundo, he used the black box to erase Burl's memories and sent him to the Ying Zoo as an exhibit. Burl escaped but without his memories he didn't know how to get back home. He settled at Leekee Lake and became known as the mysterious Hermit of Leekee Lake. It wasn't until Gimmick used the black box to return Burl's memories that he was able to return home to his wife and son.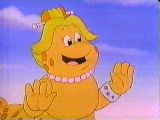 This is Grubby's mom. She and the rest of Grubby's family all show up at the very end of the series.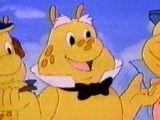 This is Grubby's dad. He and part of Grubby's family (with a young Grubby) also show up in a short flashback when we find out how Grubby got his fear of water. Interestingly, Grubby's dad smokes a pipe (or at least holds it all the time). It was a different era.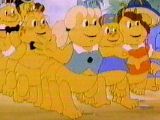 Grubby has at least 5 brothers and sisters that are shown in the series. The girl in the front with the blonde hair is Liza. The rest in this picture aren't named.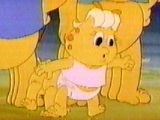 Molly is Grubby's littlest sister. Isn't she ADORABLE!?!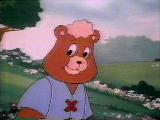 Digger is a friend of Teddy's who lives in Rillonia. He was the first person to meet Teddy upon his return home at the end of the series.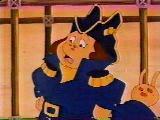 Captain Zelza is an Octopede ship's captain. She and her crew met Teddy and were caught and imprisoned in the Ying Zoo with Teddy and Co.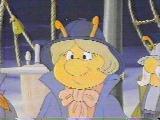 Xena is an Octopede Sailor, Captain Zelza's daughter, and Grubby's current romantic interest.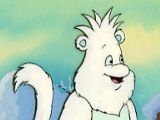 Snozos are big furry creatures who usually live far in the North of Ying. They only travel south when the ground is covered with snow. Although they look ferocious, they're really nice people. They had a legend of a young Snozo who was lost years ago. . ..
Wogglies are small creatures that look a lot like rabbits and live in Boggley Woods. The two Wogglies we meet in Teddy's adventures are Gramps and Wiggs Woggley. They speak in rhyme, all the time! They were introduced in the story "Lost in Boggley Woods" which was never animated, only released in a book/tape story for the Teddy Ruxpin doll. However, they do appear once in the animated series, in the episode with the first appearance of the Snozos.